Horizon Europe Matchmaking Event on Digital and Emerging Technologies and Human-centred AI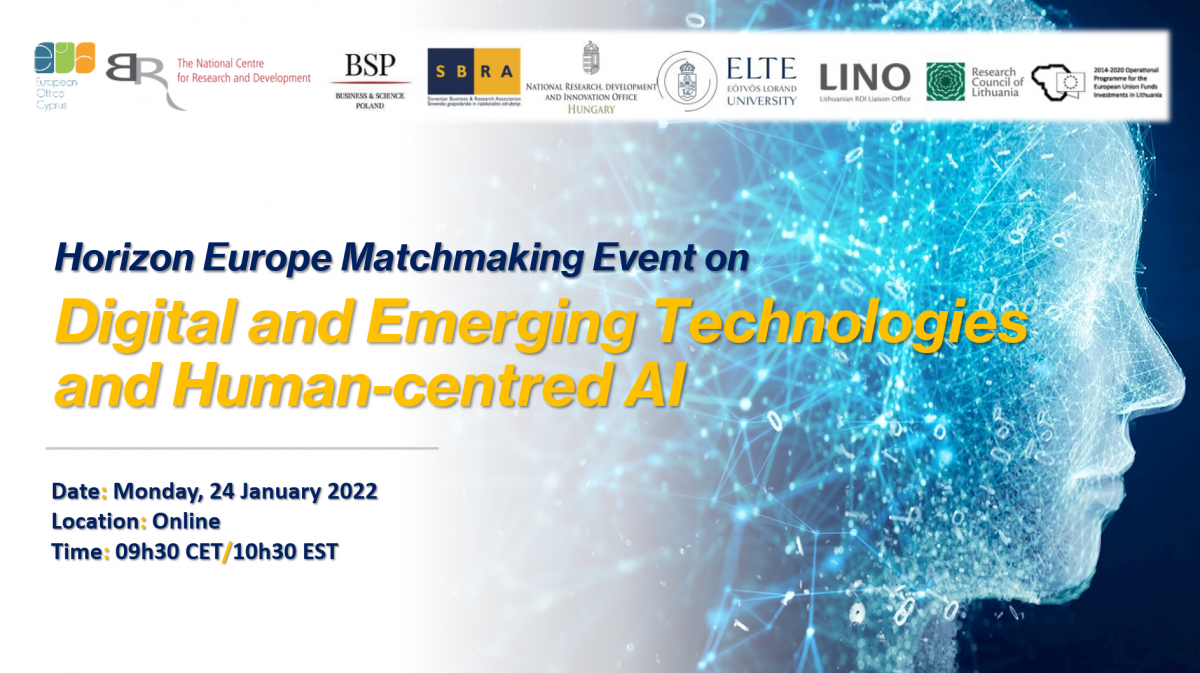 Slovenian Business & Research Association, the European Office of Cyprus – Brussels Office, NCBR Office in Brussels – Business & Science Poland, Eötvös Loránd University, the National Research, Development, and Innovation Office in Hungary and the Lithuanian RDI Liaison Office in Brussels organised
Horizon Europe Matchmaking Event on
Digital and Emerging Technologies and Human-centred AI
Date: Monday, 24 January 2022
Location: Online
Time: 09h30 CET/10h30 EST
This online matchmaking event focused on the research and innovation community of Cyprus, Greece, Poland, Slovenia, Hungary and Lithuania, as well other relevant European stakeholders. The goal of the event was to build a platform for everyone to share their ideas and find partners for future consortia in Horizon Europe calls, with a particular focus on Cluster 4, under Digital related topics (Digital and emerging technologies for competitiveness and fit for green deal 2022; A human-centered and ethical development of digital and industrial technologies 2022 and other Digital related projects).
The agenda is available here.
The recording of the event is available here.
Keynote presentations:
Pitch presentations - Digital and Emerging Technologies for Competitiveness and Fit for Green Deal:
Pitch presentations - A Human-centred and Ethical Development of Digital & Industrial Technologies:
For any questions you may have regarding the event, please contact Ms. Aliki Varella via varella.aliki@ucy.ac.cy