Sustainable Business Models in Circular Bioeconomy
Sustainable Business Models in Circular Bioeconomy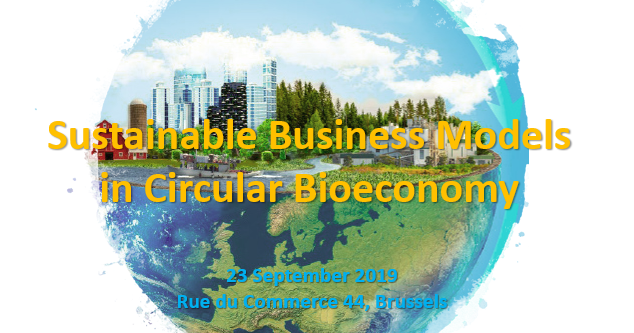 23 September 2019   I   09:15 – 14:30
Rue du Commerce 44, 1000 Brussels
Permanent Representation of Slovenia to the EU
In 2015, the European Commission adopted the Circular Economy Action Plan, where circular economy is defined as an economic concept where the value of products, materials and resources is maintained in the economy for as long as possible, and consequently the generation of waste minimized. Undeniably, one of the key sector areas of the circular economy is also biomass, which the conference will also address. 
 
The key objective of the conference was to present sustainable business models and best practice examples of public and private cooperation, investment, research and business cooperation, as well as demonstrating the deployment of sustainable and circular bio-based solutions. The conference focused on investment and financing opportunities for circular bioeconomy, including best practice examples of business-research cooperation.
Please take a look at the conference programme here.
Photos from the conference are available here!
Presentations:
Key note speech: Dr. Janez Potočnik, former EU Commissioner, Co-Chair UNEP International Resource Panel
Bio-based Circular Economy Dr. Dragica Marinič, Strategic Research and Innovation Partnership for Circular Economy
Local2Local: A Potential for Bio-refining in Eastern Europe?, Dr. Blaž Likozar, National Institute of Chemistry, Slovenia
Building Value Chains in Vanguard Bioeconomy Pilot – Importance of Biorefineries – Dr. Willem Sederel, Bio Based Delta, Randstad
Bioeconomy in Navarra Region: the example of CENER Research Centre, Jorge Molina-Villanueva, ADItech Foundation – Member of the EU Bioeconomy Stakeholders Panel (ES)
Hydrogen produced in circular economy: a bioeconomy application to the service of people and territories, Jean Foyer, GDL (FR)
Circular economy in textile sector, prof. dr. Aleksandra Lobnik, IOS – Institute for Environmental protection and Sensors (SI)