Fostering transregional S3-based cooperation: Advancing the sustainable blue economy through macroregional innovation collaboration
The Technology park Ljubljana and the Slovenian Business & Research Association (SBRA) have the pleasure to invite you to the event of the Interreg Adrion project BLUEAIR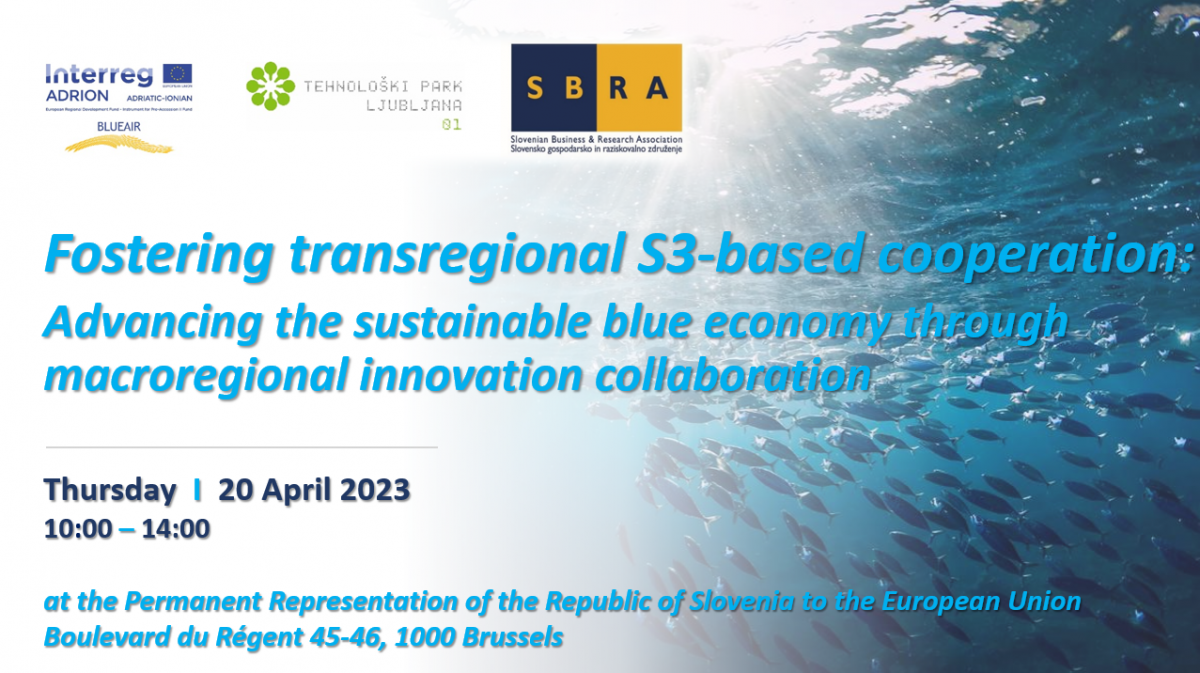 Fostering transregional S3-based cooperation:
Advancing the sustainable blue economy through macroregional innovation collaboration
taking place on Thursday, 20 April 2023
at the Permanent Representation of the Republic of Slovenia to the European Union
(Boulevard du Régent 45-46, 1000 Brussels).
The event will explore the potential of macroregional smart specialisation-based cooperation in advancing sustainable development in EU macro-regions and Euroregions. Utilizing the Interreg Adrion project BLUEAIR as a case study, the event aims to demonstrate the steps taken towards S3-based cooperation in the sustainable blue economy in the Adriatic and Ionian Region. The event will highlight the importance of promoting transregional collaboration between various innovation stakeholders towards a more coordinated approach for developing relevant priority areas and cross-border innovation. The event aims to inspire other EU macro-regions and Euroregions to embrace similar approaches in priority areas relevant to their respective regions.
The event will feature speakers from the European Commission, BLUEAIR partner organisations and ministries, discussing the ways of promoting macroregional innovation strategies and transregional S3-based cooperation.
The programme is available here.
Presentations:
REGISTRATION: