Europa Unfinished Masterpiece
Europa Unfinished Masterpiece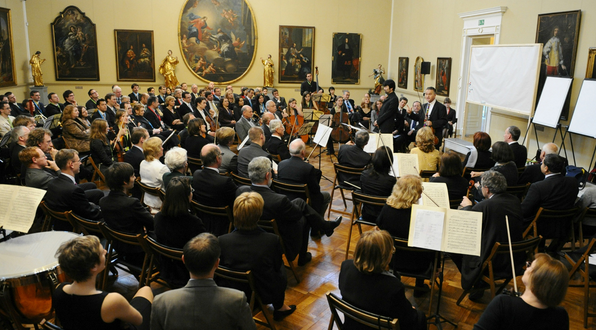 On behalf of Miha Pogačnik, violinist, visionary and cultural ambassador of the Republic of Slovenia,
alongside the Permanent Representation of the Republic of Slovenia and the Slovenian Business & Research Association (SBRA), have the pleasure to invite you to:
a special event to experience the musical strategy for development of polyphonic ("symphonic") European identity!
Miha Pogačnik will demonstrate with his violin the method of transferring formative forces of masterpiece to the field of business and politics, igniting idealism urgently needed for EU identity to emerge!

Miha Pogačnik began this Slovenian social innovation in the countries of Western Balkans who are aspiring EU membership. During the Europa week, 2 – 9 May 2017, participants in Albania, Kosovo and Macedonia were sitting among the musicians of the national symphony orchestras, enabling a flaming inspiration of Europe to manifest. Miha Pogačnik will report about this experience which concluded in Ljubljana and invites you to a conversation about the next steps.
The event will take place on Tuesday, 30 May 2017 at 17:00 at the Permanent Representation of the Republic of Slovenia to the EU (Rue du Commerce 44, Brussels).
Download the leaftlet with additional information concerning the project "Europa Unfinished Masterpiece" by clicking here.
For more information about maestro Miha Pogačnik, go to www.mihavision.com
Space is limited to only 80 participants, so please register as soon as possible: