EDIDP-2020 European defence industrial development programme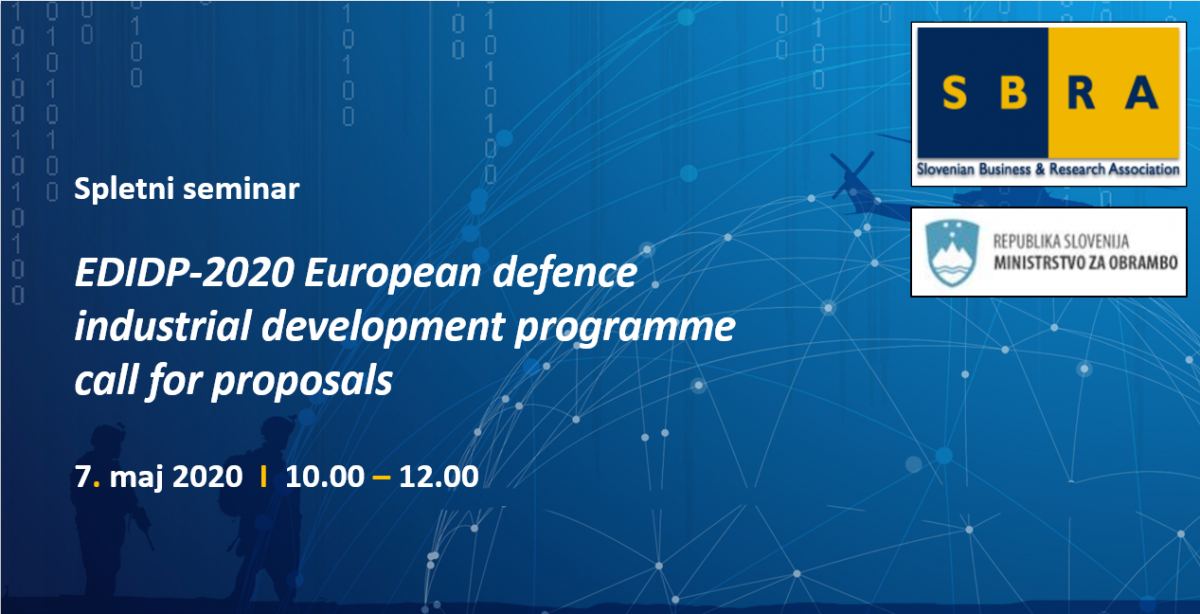 Evropska komisija je objavila razpis v okviru Evropskega programa za razvoj obrambne industrije (EDIDP-2020 European defence industrial development programme). Ker nam trenutne razmere ne dovoljujejo organizacije dogodkov, smo se na Slovenskem gospodarskem in raziskovalnem združenju (SBRA) odločili, da v sodelovanju z Ministrstvom za obrambo razpis EDIDP predstavili preko spleta.

Razpis je predstavil g. Guillaume Galtier iz Evropske komisije, novo ustanovljenega generalnega direktorata za Obrambno industrijo in vesolje. 
Prezentacija je dosegljiva tukaj.

V okviru letošnjega razpisa EDIDP 2020 je na voljo 163,5 milijona EUR za 24 tem, ki so razdeljene v naslednja področja:
Chemical Biological Radiological Nuclear (CBRN) detection capabilities and medical countermeasures
Underwater control contributing to resilience at sea
Counter-Unmanned Air Systems (UASs)
Cyber situational awareness and defence capabilities, defence networks and technologies for secure communication and information sharing
Space Situational Awareness (SSA) and early warning capabilities
Maritime surveillance capabilities
Upgrade of current and development of next generation ground-based precision strike capabilities
Ground combat capabilities
Air combat capabilities
Simulation and virtualisation tools and equipment for training, exercises, systems design, development and integration, testing and validation
Defence technologies supported by artificial intelligence
SME - Innovative and futureoriented defence solutions
Udeležba na webinarju je bila brezplačna.
Spletna prijavnica: